SteeloCare wins German Packaging Award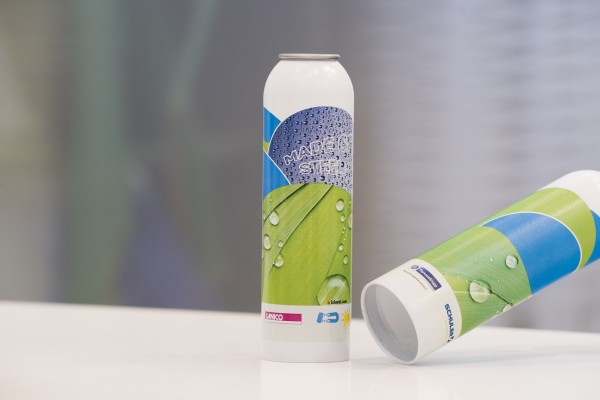 SteeloCare, a tinplate aerosol can from the technology network Lanico, Schuler Pressen and ThyssenKrupp Rasselstein, has been awarded the renowned Packaging Award in the category cosmetics & hygiene articles. The jury of independent experts from industry, research, teaching and the trade press was convinced by the new concept can, which combines the unusual approach of aerosol can technology with exceptional packaging steel functionality.
The German Packaging Award recognises the best and outstanding developments and innovations in the packaging sector.
The technology network of SteeloCare, Michael Kaufmann from Lanico, Markus Roever from Schuler Pressen and Dr Dirk Gade from ThyssenKrupp Rasselstein, accepted this prize in the award ceremony in Nuremberg. Dr Gade said: "The award makes us very proud. It demonstrates that this concept can created in our network and the solution out of one hand convinces people. We are looking forward to the next steps until the first SteeloCare Aerosol Cans are in market."
The first aspect of the concept is the foil laminated tinplate, which impressed with its deep drawing properties and high formability, a requirement for the D&I process. The surface is the result of foil lamination, which allows dry processing and high variability of print technologies. Furthermore, the aerosol has a BPA-free surface as well as excellent scratch and corrosion resistance.
The second aspect of the concept is the slim and dry processing route, as well as the hidden seaming machinery. The slim D&I process leads to lightweight aerosol cans – with masses comparable to aluminum aerosol cans – giving a huge leverage of material, energy and water savings. In addition, the hidden inner seam of the aerosol can opens the possibility of 360° printing. The design with an extra bottom piece also enables the adjustment of tailored pressure resistances.
Related content