November 2011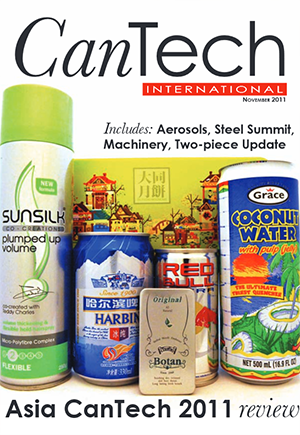 Regulars:
New Products: New cans and ends in the market place
Equipment News: The latest machinery and equipment for the can line
Candid: Santi Canela, partner and technology manager, Fast Drinks
Features:
Asia CanTech 2011 review: A record number of can makers and suppliers attended this year's conference. Alec Peachey reports from Vietnam
Asia CanTech 2011 Awards: Can makers from throughout Asia were honoured at the Gala Awards dinner in Vietnam
Bucking the trend: CanTech International was invited on a whistle stop tour of CarnaudMetalbox Engineering's facilities in Shipley, near Yorkshire. In this article, Alec Peachey finds out more about the history of the company, from its beginnings to the present day
Thin walled aerosol cans: Dr Bernd Ullmann is the business development manager at Mall + Herlan. In this article he looks at the different manufacturing methods used for making aerosols, including impact extrusion (IE) and deep draw and wall ironing (DWI)
Making inroads: CanTech International correspondent Evert van de Weg discusses how DWI cans for food have gained an increasing market share in Europe
Knight's knowledge: Jack Knight is director international technical service for INX International Ink Co. In his latest contribution for CanTech International he looks at the area of quality control
Spraying dividends: Gregor Spengler, secretary general of the International Organisation of Aluminium Aerosol Container Manufacturers (Aerobal), reveals the reasons why the aerosol industry is heading for a new production record in 2011
A core of steel: The Association of European Producers of Steel for Packaging (Apeal) held its recent Summit in Kosice, Slovakia. Patricia Mobbs, Apeal communications manager, reports on the event
Access this issue
Back issues of CanTech International are restricted to paid subscribers. Please login or subscribe to see this exclusive content!
Related content