February 2013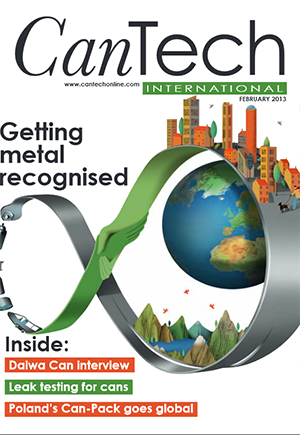 Regulars:
New Products: New cans and ends in the market place
Equipment News: The latest machinery and equipment for the can line
Filling Focus: News and information from the filling industry
Candid: Dick Searle, chief executive, The Packaging Federation
Features:
Can-Pack: CanTech International correspondent Evert van de Weg talks to Stanislaw Wasko, first vice president and operational director of Poland-based can making group Can-Pack
Sustainability: Anders Linde is the secretary general of Metal Packaging Europe. He looks at the organisation's work to get metal recognised as a permanent material by the European Parliament
Three-piece cans: David Hayes travelled to Japan to find out about the new drinks cans developed by Daiwa Can
Aerosols: Lee Bradley, European marketing director at Crown Aerosols Europe, discusses why aerosols are adding value for consumers in new markets
Inspection & testing: Beth Graves, sales and marketing manager at Prime Controls, reviews the evolution of three-piece can leak testing and present day technology
Beverage cans: Editorial board member James Peterson discusses how beverage cans have evolved and the reasons why they remain a popular packaging choice
Industry view: Tony Lacey, the owner of OKL Can Line, says the industry must look to address its ageing workforce
Knight's Knowledge: Jack Knight from INX International looks at why ink rolls are a key element in quality printing
Access this issue
Back issues of CanTech International are restricted to paid subscribers. Please login or subscribe to see this exclusive content!
Related content