January/February 2011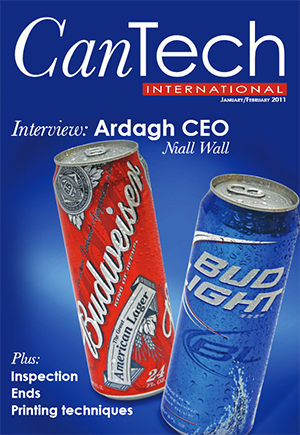 Regulars:
Equipment News: The latest machinery and equipment for the can line
New Products: New cans and ends in the market place
Candid: Ian Clayton, plant manager at Rexam Beverage Can, Milton Keynes, UK
Features:
The Editorial Board: CanTech International is fortunate to have assembled a group of highly experienced experts from different sectors of the can making industry
A revolution in can making: Easy open ends have revolutionised the can making industry. Evert van de Weg looks at how Ermal Fraze from Dayton Reliable Tool Company came up with a simple invention that has changed the industry completely
Swan on song: During last year's Asia CanTech conference, CanTech International was invited to take a tour around Swan Industries (Thailand) can plant. Alec Peachey reports
Thoughts and opinions from the board: Editorial board member and senior vice president of Hindustan Tin Works, Atit Bhatia, talks about the success of Canvironment Week, a new environmental campaign designed to promote sustainability and recycling of cans
Big plans at Ardagh: Ardagh Glass Group recently completed the acquisition of Impress. The company's CEO Niall Wall talks to CanTech International about the deal
Targeting two-piece: San Miguel Yamamura Packaging Corporation Metal Container Plant is targeting the high end twopiece can printing market for sales growth. David Hayes reports
Making light of leak testing: A variety of inspection and testing systems are used across the metal packaging industry. Alec Peachey takes a look at some of the most recent innovations, with a particular focus on light and leak testers
Speciality is key: Rich Grimley, chief operating officer, Rexam Beverage Can Americas talks to Alec Peachey about the North American market
The technical side: In the first in a series of technical articles that are set to feature in CanTech International over the coming months, Chris McKenzie, international director of Chemtool and a member of the Technical Forum team at Asia CanTech 2010, looks at front-end spoilage control in wet chemicals
Committed to the easy open end: Global Ends was founded in 2001. It is based in the Spanish city of Ceiti, in the province of Murcia. Evert van de Weg discovers more about the company's production of easy open ends
Buyers Guide
Access this issue
Back issues of CanTech International are restricted to paid subscribers. Please login or subscribe to see this exclusive content!
Related content