July/August 2009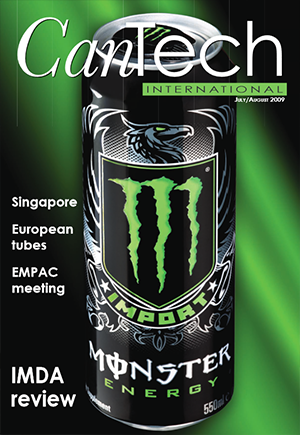 Regulars:
New Products: New cans and ends in the market place
Equipment News: The latest machinery and equipment for the can line
Candid: Gokhan Atkas, managing coordinator, Teksan Metal Packaging
Features:
China unbound: Cannex was held in Guangzhou, China for the first time in its history. The show was small but perfectly formed, Suzanne Christiansen reports
Diamonds are forever: The recession was no dampener on the metal decorators' spirit at the IMDA's Diamond Jubilee meeting. Suzanne Christiansen reports
Empac's impact: European metal can organisation Empac's general assembly in Vienna was a success, according to Evert van der Weg
Talking up steel cans: Rasselstein of Germany remained positive about the tinplate can outlook at its recent Future Symposium in Andernach, Evert van der Weg reports
Benefits of diversity: Seng Cheong Tin Factory is branching out into non metal packaging to supply customers in Singapore. David Hayes reports
Interview: Gregor Spengler, Secretary General, european tube manufacturers association (etma)
Access this issue
Back issues of CanTech International are restricted to paid subscribers. Please login or subscribe to see this exclusive content!
Related content