New football can from Rexam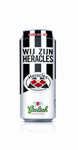 Grolsch has chosen Rexam to produce its new Heracles promotional can.
The 50cl cans were filled with Grolsch Premium Pilsner. They are aimed at supporters of Heracles football club from the town of Almelo, located in the home area of Grolsch in The Netherlands.
The can features a black and white design, the colours of the Heracles team, together with the Grolsch logo and the slogan 'We are Heracles'. The can is finished with Rexam's matt over-varnish.
Melanie Koning, senior brand development manager at Grolsch, said: "The new can is an absolute collector's item for Heracles supporters. The understated yet eye-catching design, combined with Rexam's matt varnish, ensures that the product truly emphasises the relationship between Grolsch and the football club."
Matthijs Jansen, sales director at Rexam Beverage Can, added: "We are delighted to have partnered with Grolsch again to create this promotional product. The beverage can is great for these event specific promotions especially connected to sport, allowing 360 degree branding and impactful design to create something new and exciting on shelf for consumers."
The Grolsch Heracles promotional cans have been on sale in the Almelo region, home to Heracles Football Club.
Related content