Ball releases third sustainability report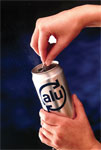 Ball has issued its third sustainability report, detailing the company's economic, social and environmental sustainability progress achieved during 2010 and 2011.
The report is available online at www.ball.com/sustainability.
"Becoming more sustainable means thinking long term, which is a hallmark of Ball's history and a key component of our Drive for 10 vision that we introduced in 2011," says John Hayes, Ball's president and CEO. "Our latest report identifies our progress and our future goals, both driven largely by measuring and improving our sustainability performance within our facilities, and by broadening our scope to collaborate with customers and suppliers to determine opportunities that provide the greatest sustainability impact within the supply chain of our products."
Ball established six corporate sustainability priorities that build on past sustainability efforts and are covered in detail in the report: innovation, operations, talent management, recycling, supply chain and community. Other highlights include:
Economic sustainability
• Ball generated more than $1 billion in free cash flow in 2010 and 2012 combined to support the company's efforts to be economically sustainable. Ball's total investment in its business was $694 million, which helped to create jobs in local communities and position the company well for the future.
Social sustainability
• Ball improved its safety record by reducing the company's total recordable incident rate by 27%, achieving far lower levels than industry peers as reported by the U. Bureau of Labour Statistics.
Environmental sustainability
• Ball exceeded its global, 10-year greenhouse gas emissions reduction goal of 16% two years early, through continuous efforts to improve energy efficiency.
• The company increased the percentage share of the total waste from its facilities worldwide that is recycled from 37 to 47%.
Ball issued its first sustainability report in 2008 and its second report in 2010. The company expects to issue its next sustainability report in 2014.
Related content