Hayes joins Sun Chemical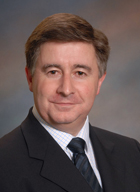 Sun Chemical, a leading manufacturer of printing inks and pigments, has announced the appointment of Greg Hayes as its new group managing director for the Northern European region.
Hayes brings more than 25 years of relevant industry knowledge and experience to the position. He joins Sun Chemical from PPG Packaging Coatings where he held the post of general manager for Europe and the Middle East.
He graduated in chemical engineering at Nottingham University in the UK before starting his career in production management with ICI and subsequently with Courtaulds.
Hayes held a number of positions at the company including markets manager, Europe and worldwide sales and marketing director, Courtaulds Packaging Coatings.
When Courtaulds Packaging became a part of PPG in 1999, he was appointed as general manager of the amalgamated business, which he led to achieve growth in mature markets. He also served as chairman of CEPE Can Coatings Group and was a board member of PPG Industries Europe Sàrl.
Hayes, who will be based in the UK, will lead Sun Chemical's businesses in the UK, Ireland and the Nordic countries, its successful global digital inks business, and the Sun Branding Solutions packaging design services business. He will also co-ordinate the screen, circuits and industrial inks business across Europe.
Rudi Lenz, president and CEO of Sun Chemical, said: "Greg has delivered great successes in a challenging market segment through the implementation of world class techniques in selling, innovation, product quality and people. I am truly excited by Greg's decision to join Sun Chemical. He is a highly experienced business manager who will lead some of our most important businesses to greater success in challenging times."
Related content