Investing in the future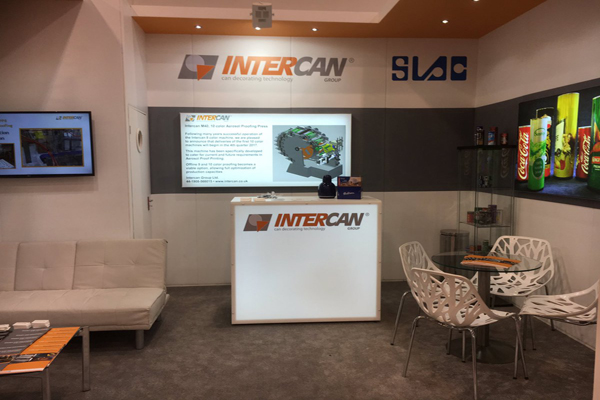 CanTech International has been no stranger to covering acquisitions in the can making industry during the past few years. For those with a rich heritage within the trade, it's been an inevitable outcome of business, as the metal packaging industry has matured and developed. For Suzhou SLAC Precision Equipment, a supplier of high speed equipment to beverage can, food can and metal aerosol manufacturers, the acquisition of Intercan Group follows an aggressive acquisition strategy which has already seen subsidiary companies developed in Ferrara, Italy (Corima International) and Dayton, US (SLAC Precision Equipment Americas). The acquisition of Intercan, which is expected to be completed by the end of July 2017, is another step in developing its product range and serving customers internationally.
But for Intercan Group and its owner Peter Strode, what are the motives behind the deal? Strode takes up the story.
"The time for us as a company is right for number of reasons," explains Strode. "For us to develop from where we are now, we need to do something more than I'm able to do as an individual and as a privately owned company. This is from a financial point of view, but also sales-wise and resources of course.
"When the suggestion was put to me, I found that there were a lot of benefits to Intercan as a company. We are strong enough in the small niche that we are in, but if we want to go from strength to strength, we can go further with SLAC ­­- either by selling more equipment or developing new equipment.
"I believe it's the right time for the staff; it gives them some continuity and progress rather than potentially a stagnating company that is not changing year-on-year. It's a new challenge in a way."
Like many within the trade, Strode has lived and breathed the can making industry for many years. The company has been in operation since 1986, and Strode has a background in engineering where a colleague, who owned an engineering company, introduced him to the industry, selling parts to the can making business. From there, he worked to develop products that this colleague made and then subsequently sold. The company currently employs eight people and has its own manufacturing facility in Milton Keynes, UK.
"We have been through a number of changes and developments in the industry which has led us to concentrate exclusively on can printing equipment," he says. "We don't claim to be expert printers, but we do claim to know quite a bit about the equipment that goes into the business of can printing."
For someone with such a rich heritage within the industry, and a vast amount of experience running his own company, the decision to sell hasn't been taken lightly. It's the assurances that the Intercan name will continue to flourish under new ownership which appears to have appealed to Strode.
"Since becoming involved with SLAC, I have been quite impressed with what they have done and their plans for the future too," Strode says. "In the past I've seen competitors like Stolle buying Franklin Machine products; they were big in making replacement parts. He was a real thorn in Stolle's side and so they bought his company. Within six months they closed them down.
"I've been given assurances and seen the plans they have for that not to happen with Intercan. SLAC have bought my experience, the reputation of my staff and a UK manufacturing facility. They still want me to be managing director and Intercan to still be a British registered company paying taxes in the UK and operating from within. For SLAC, we are another string to their bow, similar to Corima in Italy too.
"One of the limitations of a small company is what you can invest, and hopefully this deal will enable us to do more."
It'll be quite a change for Strode, who in typically humorous fashion, explains to CanTech how he has never had an employment contract or worked for anyone in his life. It's this new challenge which really appeals.
"It's difficult for someone at my stage of life to have a new challenge," he explains." I'm now employed with an employment contract – that's a new challenge to keep my job!  It's a good time to have a new role; it suits the company and suits me personally as well. 10-15 years ago it wouldn't have suited, but it does now.
"I will now be reporting to a board of directors in China. We have the same name and logo, but owned by somebody else. I've been very impressed by how open and honest they have been through the negotiations; they have been very fair about it all. I'm looking forward to working with them."
When speaking with Strode, it's clear to see there are still mixed emotions about the impending sale. Although there is excitement there, the relinquishment of full control over a business developed over the past 30 years will be a difficult one. It's the relationship between the company and its suppliers that is also at the forefront of his mind, rather than the wish to sell up and retire.
"There are mixed emotions of course, but it's more about the excitement of seeing  the company do better than it has ever done ­-  I would be proud of that as well," he says. "I think it has more potential to do that now, which is a positive emotion if you like.
"One of the biggest things is to maintain current relationships with suppliers and customers. It's about the suppliers because with customers, if you have the right product, they will buy it regardless. Suppliers do want to work with people they trust and people they understand and respect. I've been pleasantly surprised with our suppliers; the positive response is there. It will give continuity to them too."
Although there have been a couple of friendly jibes about selling the family silver, Strode insists it is more about seeing the company flourish for years after his death, rather than trying to safeguard the company's future. With his family's blessing, it appears to be a sound move for all.
"I would love the company to still be doing stuff 50 years after I die, but it's as likely to do it under this regime as the family running it," he says. "I wouldn't force family to get involved. If they had naturally shown an interest I would happily have got them involved. But like many running small business, all have got families, and for me, family and work have always been two separate things.
"Never once have I gone home and told my wife about the problems that have gone on during the day and never shared that. My job as father and husband has been to provide for them and make sure they are happy – I've never really wanted to mix the two. Half the time I don't think they know what I do! Obviously I have run it past them to make sure they are happy – that side of it hasn't been too difficult. It means that for family and business, it all makes sense.
The acquisition of Intercan by SLAC is another in a long line of recent consolidation to the can making industry. In the May issue of CanTech International, publisher Neil McRitchie observed how this consolidation was not necessarily a good thing for those involved. But for Strode, he doesn't necessarily subscribe to this nostalgic view.
"I wouldn't really agree that things where better in this industry 20-30 years ago," he observes. "If I was a young person getting into can making, there is enough happening now; enough major players and enough consolidation going on to make it exciting. You only have to look at Ardagh's Twitter feed to see they are mad on getting graduates involved in the company. It never used to be like that as it was all very secretive; unless you were the son of someone, you would have never got a job. The industry has matured, but that doesn't mean things aren't as good now.
"So I would say I'm not nostalgic about it, there are decent things in this industry to look forward to. If the two-piece industry hadn't taken off then I may not have been around at all, but that's hindsight.  It's always better to look forward, rather than back."
Related content