Diet Coke cans get glam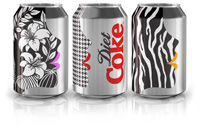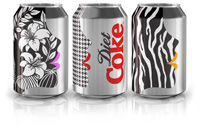 Diet Coke has designed a limited edition can collection which celebrates the hottest fashion and beauty trends of the season.
The new Diet Coke 'Get Glam' cans will be available in the UK until March 2012. Each can allows you £5 off every cosmetic purchase over £20 online at Benefit.
Each of the three new pack designs in the 'Get Glam' collection champions the individual style and personality of a Diet Coke girl, – floral print 'Romanic', on-trend hound's-tooth 'Fashionista' and striking zebra print 'Rock Chick'.  Each design is accompanied by an on-trend Spring make-up look, created by Benefit exclusively for Diet Coke, ensuring there is a beauty look to inspire everyone.
Related content