Life Water introduces sparkling canned water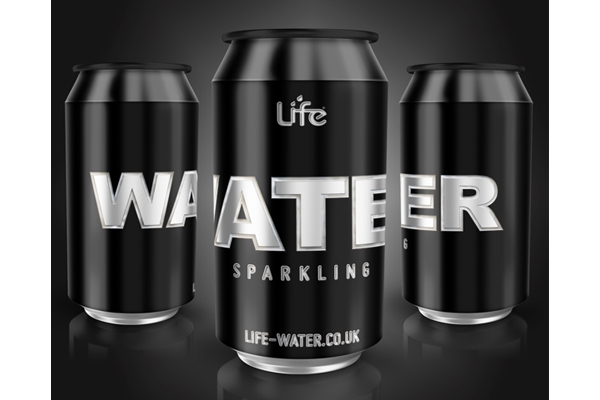 British beverage company Life Water has introduced a sparkling version of its natural spring water in a can.
Life Water, who promotes sustainability through everything it does, launched its still British spring water product in 2018 in a statement matte silver aluminium can. The company has chosen to create a contrast for the new sparkling version: a matte black can, with a black coloured shell and tab.
The Life Water cans bring metal's recyclability status to the fore by stating 'Cans Recycle Forever' in bold, stamp-effect lettering, as well as reminding us 'There's No Planet B'. The overall effect of the design is a no-fuss, no-waste look for both the still and sparkling products.
Widely available for retail purchase in multiple venues and online, the cans also starred at this year's Glastonbury Festival, whose organisers banned single-use plastic bottles from sale across the entire festival site, reflecting the wishes of attendees. As over 1m plastic bottles were sold typically at Glastonbury, replacing the bottled water on sale with Life Water's 100% recyclable aluminium cans have massively reduced the environmental impact of the festival.
Life Water is an all-British product: the beverage is produced in the UK from local natural spring sources, filled on the company's own filling line in the UK, and the package is British designed.
The company's complete commitment to sustainability extends to funding clean water projects around the world through their charity partner drop4drop. Every Life Water can sold helps fund clean water projects across the globe.
Related content