Heinz vintage cans mark Queen's Diamond Jubilee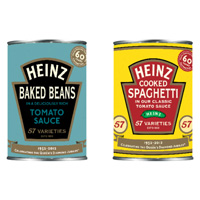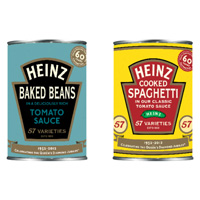 Heinz is launching new limited edition vintage labels for its cans to mark the Queen's Diamond Jubilee this year.
The vintage labels, available on the single 415g Heinz Beanz and 400g Heinz Spaghetti cans, reflect the designs used in 1952 – the year of the Queen's coronation.
Available on shelf from May, the label features the slogan 'Celebrating the Queen's Diamond Jubilee' along with a front of pack flash which says 'Heinz serving the nation for more than 60 years.'
Heinz has also secured a special display of the Heinz Beanz vintage cans in Fortnum and Mason from 23 April until 1 May, the retailer which first stocked Heinz items back in 1886, to tie in with its longstanding history with the retailer. It was in that year that Henry J. Heinz arrived at 181 Piccadilly from Baltimore with his trusty carpet bag in hand. It contained 'seven varieties' of his new patented tinned and bottled products, which proved such a success with the Fortnum's buyer that he bought the lot, and the company has been selling Heinz goods ever since.
Katherine Broadley, senior brand manager at Heinz, said: "What better way is there to celebrate the Queen's Diamond Jubilee than to produce vintage label cans of Heinz Beanz and Heinz Spaghetti to honour our British heritage as well as provide retailers with an opportunity to capitalise on sales in time for the big celebration."
Related content