ETMA members elect new president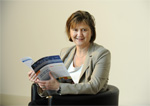 Dr Monika Kopra-Schäfer has been appointed as the new president of the European Tube Manufacturers Association (ETMA).
Dr Kopra-Schäfer, who works for Linhardt, was elected to the post at this year's ETMA congress in Brussels on 25 May. In keeping with tradition, her predecessor, Martin Hintz from Albéa, is now vice-president of the association.
ETMA's new president sees major challenges confronting the European tube industry and believes it will be difficult to repeat or better the record production of over 10.7 billion tubes achieved in 2011.
Dr Kopra-Schäfer is particuarly concerned about the increasing cost burden facing the tube industry. "Sharp increases in the price of plastics, printing inks, lacquers and not least wages are increasingly squeezing the tube industry's margins," she says. "The trend towards ever smaller production runs and ever shorter delivery times is continuing unabated and demands the highest degree of flexibility from our industry."
Despite this, Dr Kopra-Schäfer remains confident about the future. "The European tube manufacturers are well placed and will continue to maintain their strong position in the European packaging market in future thanks to their creativity, high levels of productivity and innovative solutions," she adds.
ETMA comprises a total of 52 tube manufacturers from 19 different countries. Its members account for about 75% of tube production in Europe.
Related content