Rasselstein chairman joins keynote lineup at Euro CanTech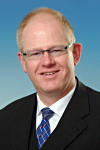 Dr Ulrich Roeske, Thyssenkrupp Rasselstein's chairman of the executive board, has been confirmed as a keynote speaker at Euro CanTech.
Thyssenkrupp Rasselstein is Germany's only tinplate producer. The company's facility is the world's largest production facility for packaging steel. It produces tinned and special chromium coated steel for a variety of packaging solutions. The product range extends from tinplate to electrolytic chromium coated steel through to organically coated material.
Dr Roeske's (pictured) presentation will be highly relevant to the European metal packaging market in evaluating the future of steel packaging as a representative of a key institution in the industry.
He joins fellow keynote speakers Stephen Klump, global packaging quality and safety manager for Nestlé, and Anders Linde, Metal Packaging Europe's secretary general, for the new Euro CanTech event that is taking place in Birmingham, UK, from 26 to 28 June 2013.
Related content