Mama's Little Yella Pils debuts in 'stovepipe' cans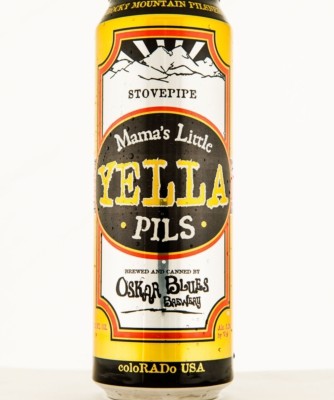 Czech-style pilsner Mama's Little Yella Pils will now be available in Ball's royal pint aluminium can.
The launch follows the release of brewer Oskar Blues' Dale's Pale Ale in the royal pint cans, which holds 19.2oz or 568ml, last year.
Ball claims to be the only can manufacturer in North America who makes the royal pint, which is approximately the height of a 24oz can and the diameter of a 16oz can.
The new can will feature the same signature graphics as the current Mama's Little Yella Pils 12oz aluminium can for the brewery, which is based in Colorado in the US.
The larger 568ml can, or 'Stovepipe' as we call it, is a perfect package for Mama's Little Yella Pils," said Chad Melis, marketing director for Oskar Blues.
"Putting the gently hopped and low alcohol (ABV 5.3%) Mama's in the larger, easily recyclable can was a natural progression, and it allows our consumers to take it places glass can't go."
"Oskar Blues recognized the beer-protecting benefits of cans more than 10 years ago, and have continued to partner with Ball to pioneer the category with the Royal Pint," said Robert M. Miles, senior vice president sales, for Ball's metal beverage packaging division, Americas.
"Packaging is an important component of branding, and the 568ml can offers our North American customers a way to distinguish their brands."
By Luke Walsh
Related content