British MP visits can making plant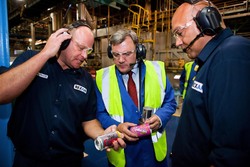 Ed Balls, a British member of parliament, recently visited Rexam's can making plant in Wakefield.
Balls, who is the MP for Morley and Outwood, was given an insight into plant performance and the can making process as well as the sustainable role metal packaging plays in modern day lives.
Michael Waite, Wakefield plant manager, said: "It was great to meet Ed Balls and to be given the opportunity to showcase our plant and our manufacturing skills. We are very proud of what we do here. Ed was keen to learn about Rexam's development and about the beverage can, particularly the fact that the can is 100% recyclable. He agreed that the UK packaging industry is an important one for both the future of the manufacturing industry and the UK as a whole."
The visit included a tour of the high speed, high precision can making process from a rolled sheet of aluminium, to the finished can, complete with brand design and any chosen innovations. During the tour he took the opportunity to meet employees on the shop floor, learning more about the process and their important roles in the manufacturing process.
Ed Balls said: "Given that the drinks can is one of the most recycled products in the world, Rexam are a company who are always keen to become greener and to reduce their environmental impact. The company must meet tough environmental standards – this is good news, especially considering the huge volumes of cans produced, around a staggering two billion a year – and all made in Wakefield."
Related content