Crown postpones China expansion plans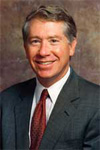 Can maker Crown has postponed plans to build two new plants in China.
The company has just released its third quarter results which show that gross profit was $369 million compared to $396 million in the 2011 third quarter, reflecting $16 million of unfavourable foreign currency translation.
Net sales in the third quarter were $2,302 million compared to $2,423 million in the third quarter of 2011 and reflect a decrease of $106 million due to unfavourable currency translation.
Chairman and chief executive officer John Conway (pictured) said the decision to postpone the building of the two new sites in Nanning and Xinxiang, China, was "consistent with our prudent approach to investing capital."
However, beverage can production has started at Crown's new plant in Heshan, China.
"We are pleased with the company's overall operating performance and financial results in light of the continuing sluggish economic conditions and unfavourable weather in many of our markets," says Conway. "The company continued to benefit from the strength of the developing markets in which we prudently expanded over the last several years, the diversification of our product offerings and geographic footprint and our constant focus on cost containment.
"Globally, beverage can volumes were up 5% in the quarter with the Americas, Europe and Asia all contributing to the growth. From the beginning of 2011, we have commercialised 10 new production lines including six new plant startups across Asia, Brazil and Europe. This includes our new plant in Heshan, China which commenced commercial beverage can production in the third quarter on plan and on budget. When fully operational, these facilities have combined annual production capacity of 8.6 billion beverage cans, all to meet expected demand.
"Over the next 12 months we expect to commercialise another 3.6 billion in annual beverage can production capabilities in still growing markets in Cambodia, China, Malaysia, Thailand and Vietnam. Consistent with our prudent approach to investing capital, we have indefinitely postponed plans to build new plants in Nanning and Xinxiang, China."
Related content