Sun Chemical to deliver sustainable flexible packaging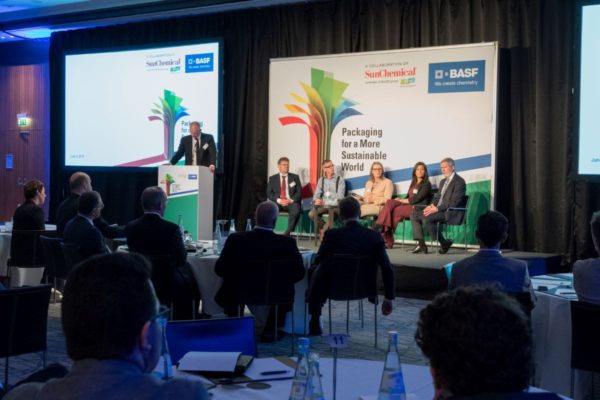 Representatives from the flexible packaging community were given an exclusive insight into the latest market trends, key challenges and issues that are driving packaging development at an exclusive event in Düsseldorf hosted by Sun Chemical and BASF.
Entitled 'Packaging for a more sustainable world', the event highlighted the growing demands of the consumer for smarter and more sustainable packaging and the need for brand owners and their packaging converters to be able to react to and anticipate future changes.
Keynote speakers included Benjamin Punchard, global packaging insights director at Mintel who highlighted the need for more innovative packaging solutions to enable waste conscious consumers to play their part in reducing food waste, which currently stands at two billion tonnes a year.
Punchard noted changing consumer perceptions with 61% of consumers now more aware of the food they waste, with 60% unhappy with this wastage. He also outlined how flexible packaging, in particular pouches and resealable closures are playing a valuable role in extending shelf life and reducing food waste, while lightweighting was another area of importance in lowering material unit costs, reducing bulk in product display and storage, as well as minimising material waste disposal for the consumer.
According to Monika Brandt, category procurement director, hair & oral at Unilever, the more informed and educated consumer is now playing a much more influential role in their choice and delivery of packaging solutions. Brandt outlined Unilever's goals for delivering greater consumer packaging benefits, by sourcing more sustainable raw materials and presenting a 'more for less' approach while delivering superior functionality and intelligent packaging.
While consumers are more informed than ever before, there are still some conflicts in the industry, highlighted by Sonia Whitely-Guest, group commercial director, Sun Branding Solutions. "Consumers want to do the right thing for the environment, but they aren't willing to compromise on quality, price or convenience; retailers also want to be seen to be responsible, but have to battle against rising costs and lower margins." What was clear from her presentation was that consumers won't forgive brand owners who don't take responsibility and therefore 'the need to find a sustainable solution that still looks premium is key'.
Related content